---
Top retail trends that will reshape the industry in 2019
---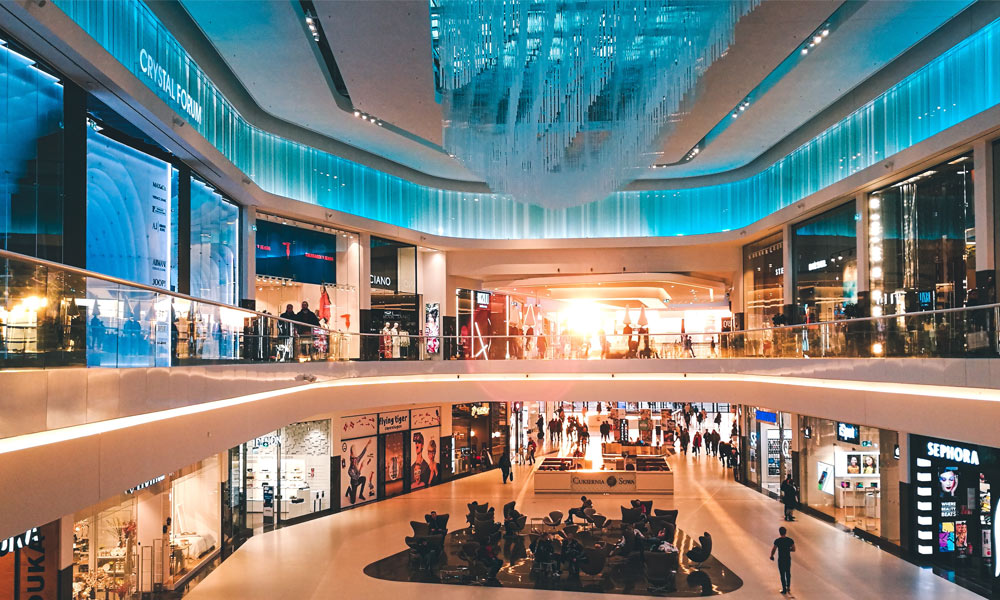 With the constant increase in online sales, physical stores must evolve and adapt, keeping in mind some significant trends. That is the only way for them to address the challenges created by new technologies and new consumer behaviour in the digital era.
Let's have a look at the main trends in the retail sector.
Key trends in retail design 2019
1 The experience
The emotional and experiential part of sales is the new stimulus to focus on.
Technology, experience and service must thus converge in retail to obtain success in all areas of sales.
In 1999, American experts Joseph Pine and James Gilmore introduced the concept of the experience economy by identifying four key words of new marketing: aesthetics, education, entertainment and escapism.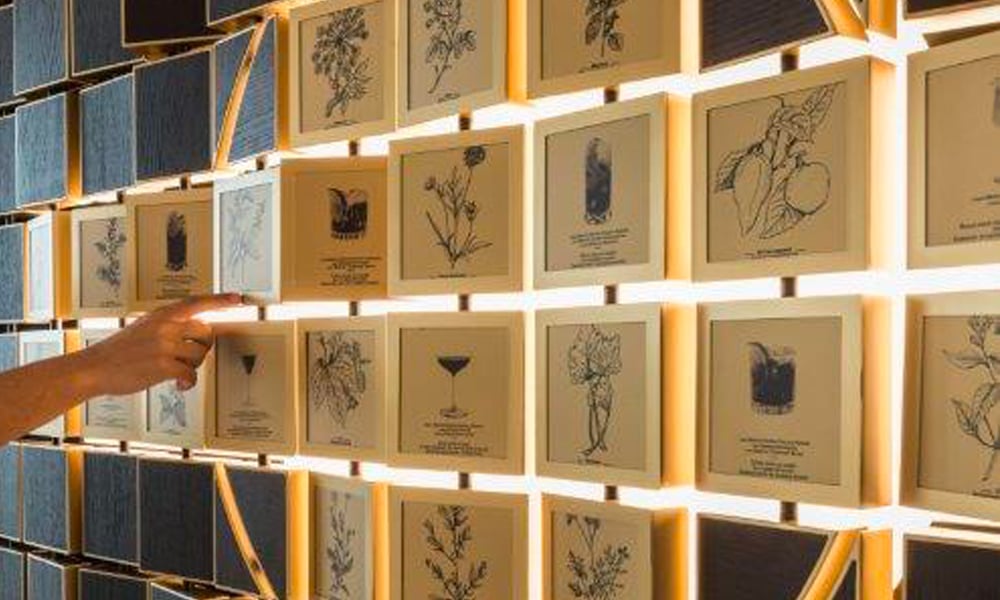 Even more so today with the growth of e-commerce, physical stores cannot just be a space to buy products in but a place that can transmit a brand's values and provide an interesting, memorable experience.
2 Multisensory experience
Emotions are a part of who we are and in most cases, determine online and offline purchasing decisions. Retail must therefore be able to develop new forms of customer involvement, trying to stimulate emotions through all the senses.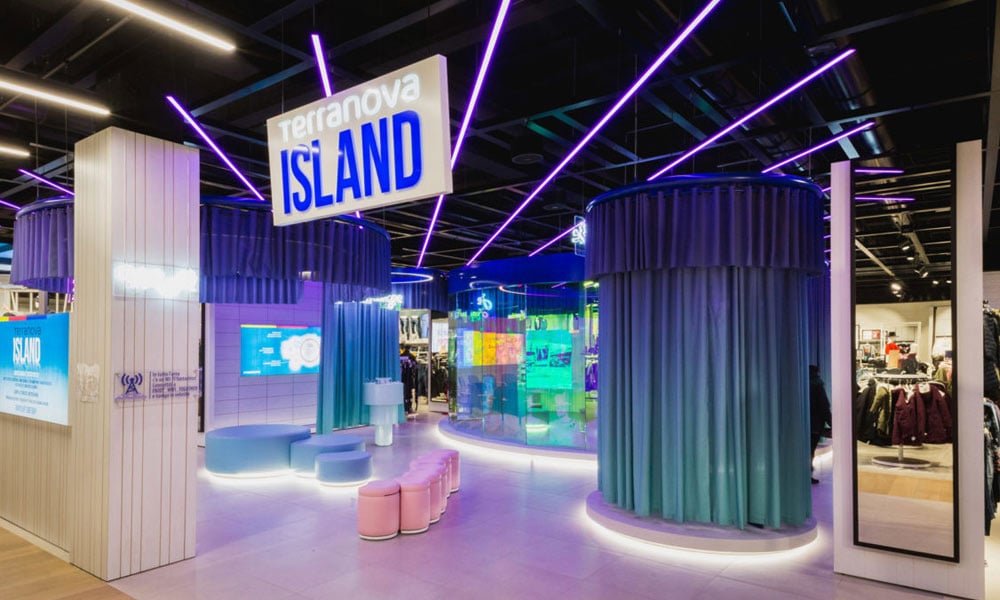 The concept of Retailtainment i.e. all those forms of instore entertainment aimed at stimulating, entertaining and emotionally involving the customer is becoming increasingly popular. With lights, colours, music, fragrances and storytelling about the exhibited product and brand, shops become places filled with emotions and the purchasing process is no longer just rational, but more emotional.
3 Feeling at home
A popular trend in retail design is that of recreating a home space in stores or even places that are habitually frequented, like bars, restaurants and even gyms.
People love to perceive any place as being friendly and welcoming. The way of portraying these emotions in physical stores is by abandoning severe designs lacking in personality and recreating environments where we generally spend moments of relaxation and well-being.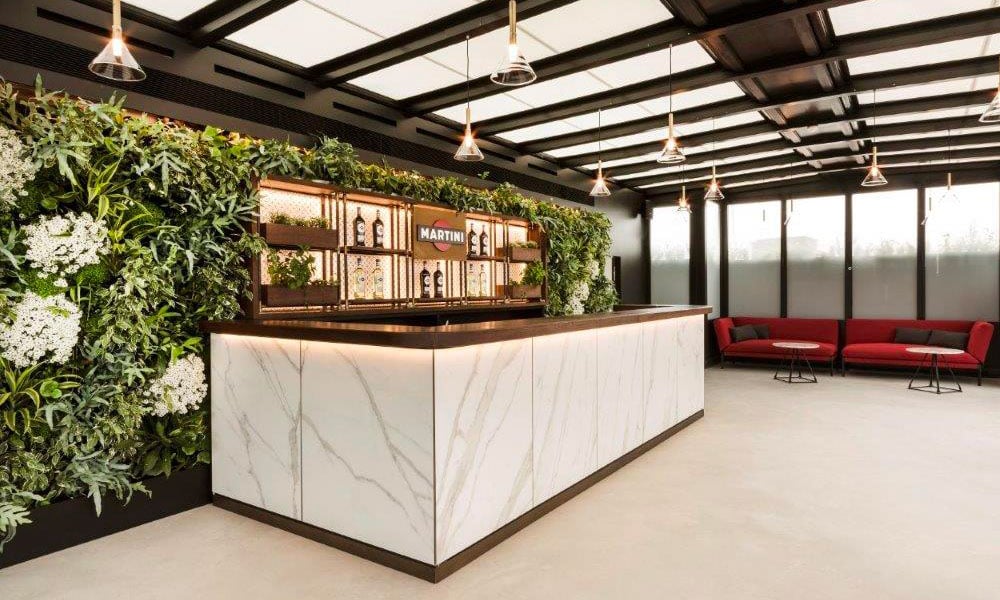 It is no coincidence that increasing numbers of retail sales environments are increasing the presence of relaxation and entertainment areas.
4 Playing with colour
Bright colours are used, as they create contrasts and shadows within the store. Colour blocking is becoming more popular, in particular, as it attracts people's gazes and encourages certain types of behaviour.
For example, it may be used to highlight a given product as it encourages the customer to dawdle longer on it.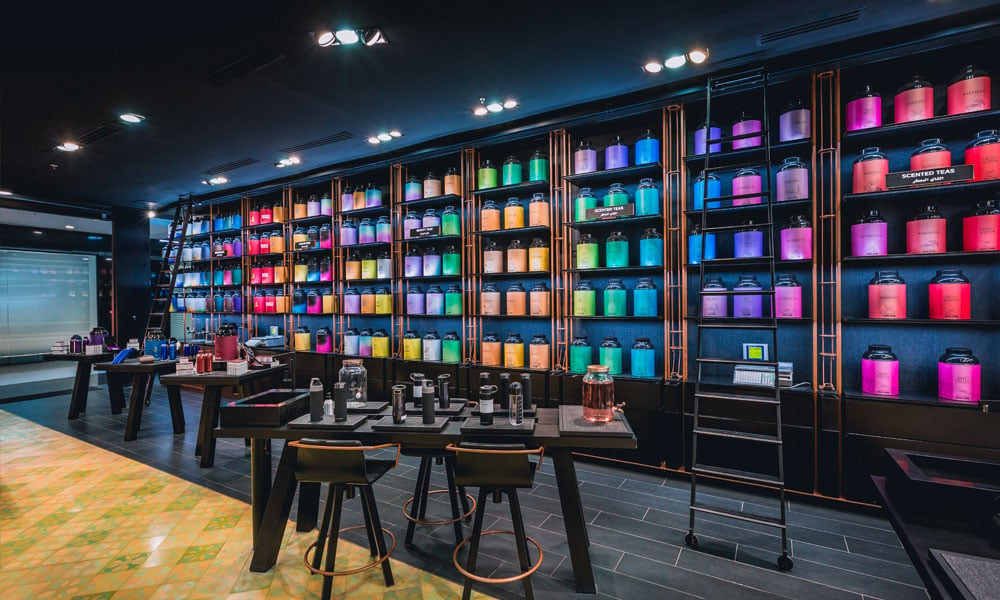 Chromatic hues with several shades of the same colour are also often used, a solution that is favoured especially in luxurious environments, unlike colour blocking that can be effective in contexts that attract a young clientèle.
5 Sustainability and ecology
With the growing attention paid to environmental sustainability in retail design, among other areas, some elements must be mentioned that place attention on protecting our environmental assets.
The use of sustainable or recycled materials and also the creation of green indoor and outdoor spaces at the store containing real plants are all signs of this new emphasis.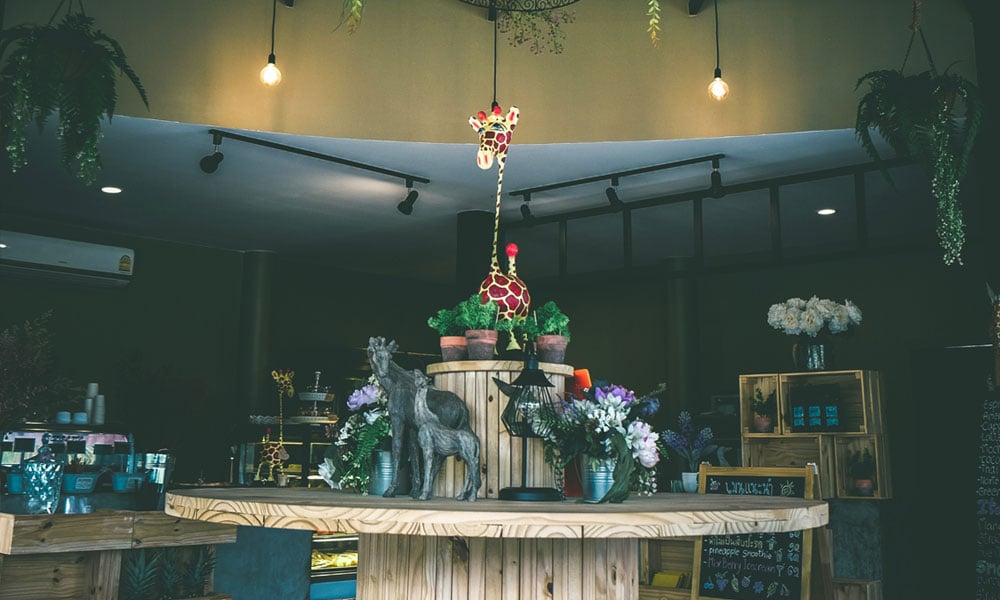 Natural materials, first and foremost wood, aid the mind's associations with sustainability and also create a sense of relaxation and well-being.
Dark grey wood and medium-colour wood such as birch are currently extremely popular in this type of environment, being used as flooring, wall covering, shelving etc...
6 Personalising light
Light plays an active part in constructing an environment and plays an essential role in a store as it conveys, captures, and subconsciously arouses states of mind, and influences purchases.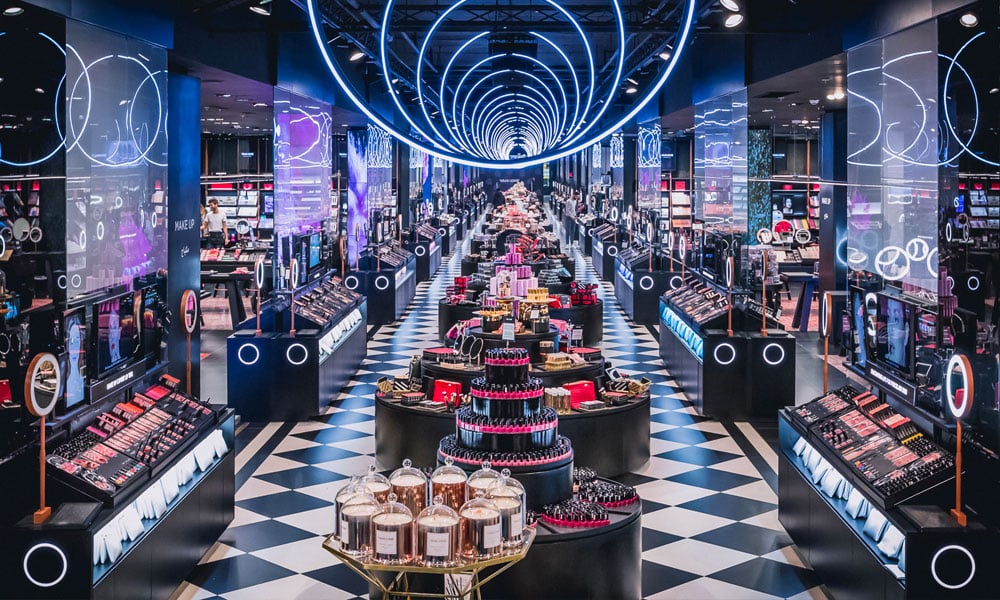 Light attracts and directs the customer's attention, encouraging them to stay and buy something. By personalising the lighting system, the retailer can highlight the exhibited products differently to how competitors do, but contributes to guiding customers around the shop and making their stay longer.
7 The importance of human relations
In spite of the fact that the world is becoming increasingly technological and digital human relations will never lose their importance. Store members of staff are an active, dynamic element who play a key role in encouraging contact with products, inviting the customer to get to know them, touch them, and providing demonstrations and advice about how they work.
Store assistants become specialists, guides who accompany the customer on their journey of knowledge, talking animatedly and knowledgeably about the products.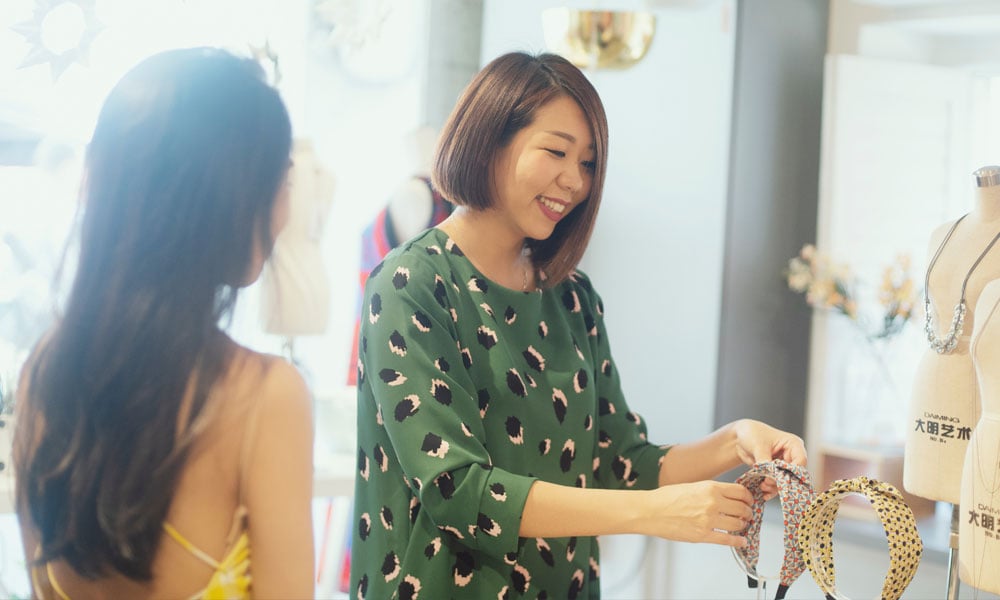 This is why retailers are increasingly focused on building a team of employees who can immediately transmit empathy with customers, accompanying in the entire purchasing process.
Examples come from the big retail names: staff at Apple Stores are hired according to their politeness and ability to establish relations immediately with the customers, while Microsoft favours employees who are extremely skilled but who can also entertain and relate to potential customers.
Apple, Sephora, Tiffany and other retailer leaders invest a lot in employee training to increase their knowledge of products and soft skills.
8 The old meets the new
The need to make stores unique and personal is becoming important and should be the hub of every brand.
However, we must also think that that is the way it must be for different generations, for example millennials and the new generation Z.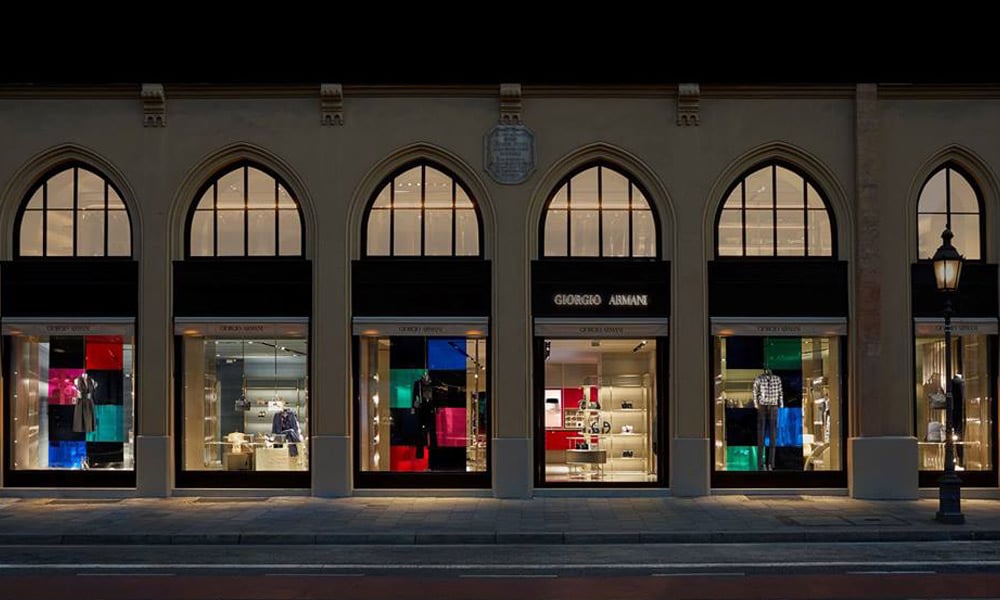 More and more retailers are taking up this challenge renovating old buildings and creating special atmospheres where old and new are combined, creating a unique experience for potential customers of any age.
9 Social Media Influence
According to recent sector studies, 53% of consumers are more inclined to buy from stores or chains with which they can enter into direct contact on Facebook.
Retailers should use Social Media platforms to interact directly with customers.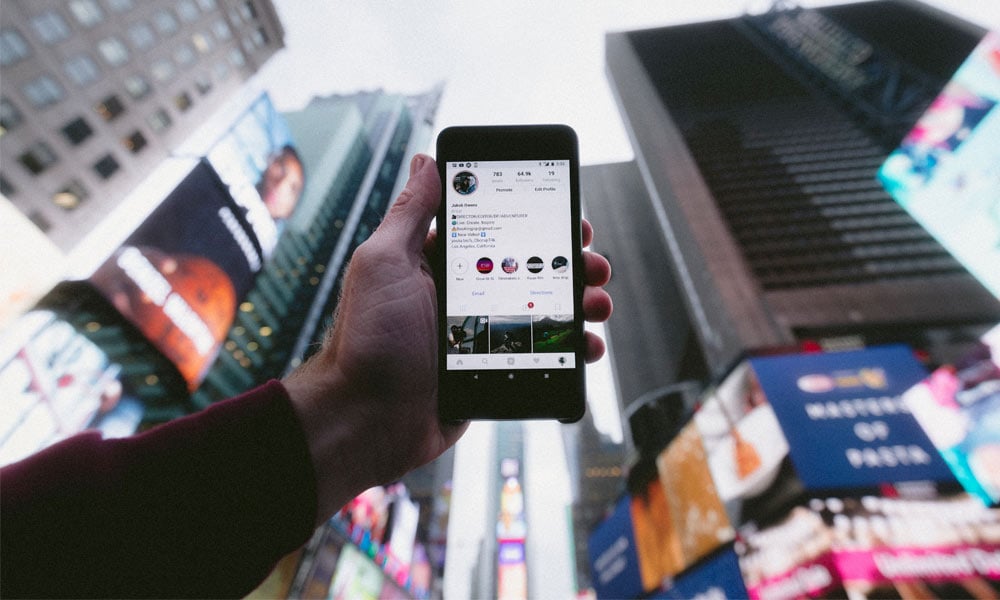 Also on social networks, Facebook live videos or Instagram stories provide other potential interactions with final customers. Social media are therefore a useful tool for telling a story and attracting new fans who may then become customer. Social media are a kind of modern shop window, the place where today's consumers search for ideas and inspiration.
10 Exploiting new technologies in the best way
New technologies are increasingly exploited to increase customer involvement in physical stores. This is the true winning synergy that can justify the use of any new technology.
For example, the new Sephora App Color IQ allows a buyer to choose make-up by seeing it directly on themselves thanks to the App.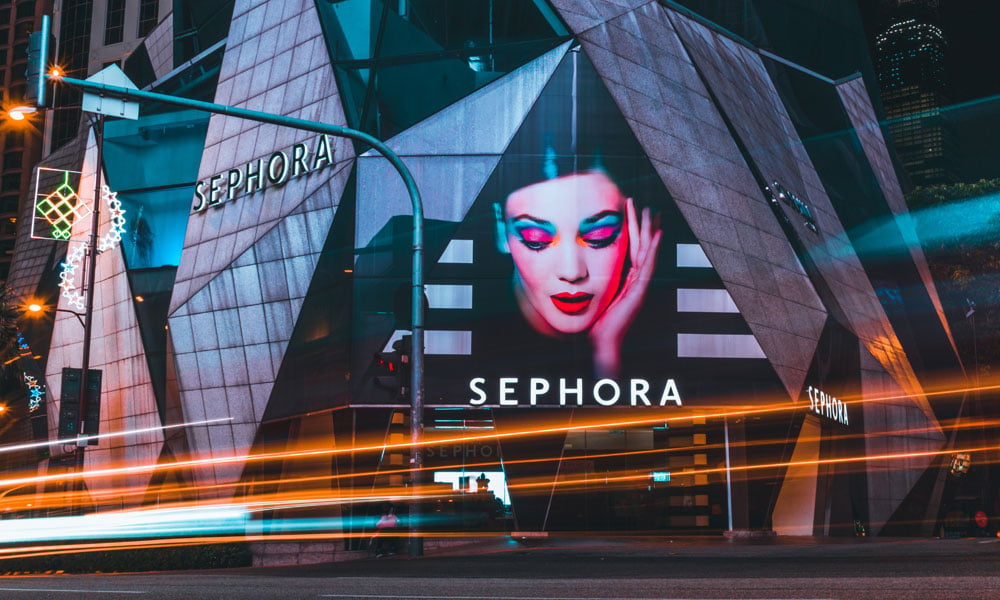 Apple sales staff use a customer management software that increases response capacity and speed, increasing customer satisfaction and time space in store.
Corporate e-learning technologies support sales staff so that they are more informed about products and therefore more empathic with customers, helping to create relations based on total trust.
To conclude
Retailers and manufacturers of the future will know how to overcome market challenges by managing to sell a combination of tangible and intangible meaning selling the product together with an interesting experience. The key is therefore to reinterpret one's store and business in general focusing on individuals and on the human relations that can be cultivated with them.